Episodes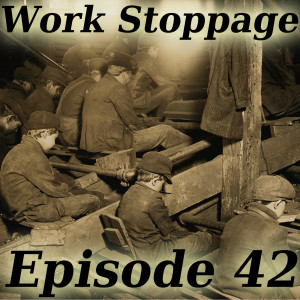 Thursday Apr 01, 2021
Thursday Apr 01, 2021
John, Lina, and Dan start this week's episode with a look back at some labor history, discussing child labor and child labor unions in Pennsylvania coal country in the early 20th century.  Then we turn to Amazon, covering the end of voting for the BAmazon union, some of Amazon's recent aggressive social media activity, the "coincidental" unveiling of Boston Dynamics' new warehouse robot during one of the most consequential union drives in recent memory, and discuss an interview with a worker at the Bessemer facility describing the conditions in their own words.  We also cover a lack of enforcement of covid safety protocols on the jobsite during the construction of a vaccine bottling plant, a campaign by garment workers around the world to stop the fashion industry from stealing $40 billion in already completed labor, and a 24 hour general strike in Belgium.
Subscribe to get twice as many episodes per month at patreon.com/workstoppage
Join the discord: discord.gg/tDvmNzX
Follow John @facebookvillain, Lina @solidaritybee and find Dan in the discord as Kelbaenor.